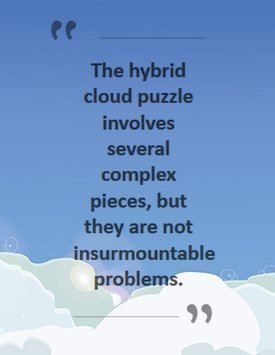 Download Preparing for The Cloud: Understanding the Infrastructure Impacts
Although IT and business executives alike are eager to shift compute power, applications, and data to the cloud in order to realize the promised benefits, many organizations still aren't operationally ready for this transition. So, how can you ensure your data center is prepared when deploying the cloud?
Instantly access this two part e-guide to hear from Bob Plankers, renowned virtualization and cloud architect for a major Midwestern university, as he outlines the steps for an effective cloud migration.
Take advantage of this free download now to learn more about: 
     * Assessing existing infrastructure resources 
     * Retrofitting networking to your cloud 
     * Implementing security safeguards 
     * And much more...
By submitting you agree to receive email from TechTarget and its partners. If you reside outside of the United States, you consent to having your personal data transferred to and processed in the United States.
Privacy